Hi everyone. Firstly, i must offer my sincerest apologies for all the confusion and delay involved in this round of The DSRL RC. It would seem that Both Toast and Myself have both been plagued with more than our fair share of clerical and technical issues with this round. Needless to say that although, yes, we admin are quite embarrassed about the whole affair, we are all thoroughly looking forward to getting this one behind us and moving on to Finland as part of the new, updated timeframe Callander, which can be found in a separate post.
Ok, i have attached the final tables of positions and points for Sweden. Although not listed, HRT Murphy and RallyManVW will receive half points from their original finishing positions, having opted not to rerun, but not having an actual time recorded to submit against the new times.
Please, could ALL competitors screenshot their finishing times and positions please. We ask for this to be done as a failsafe which, as has just been proven, could be very important at the end of the day. I know admin organise the rally, but in reality all cars carry their own time cards and are liable to receive penalties if their cards aren't filled and submitted correctly.
Again thank you to all competitors for your patience and understanding, best regards, McDuff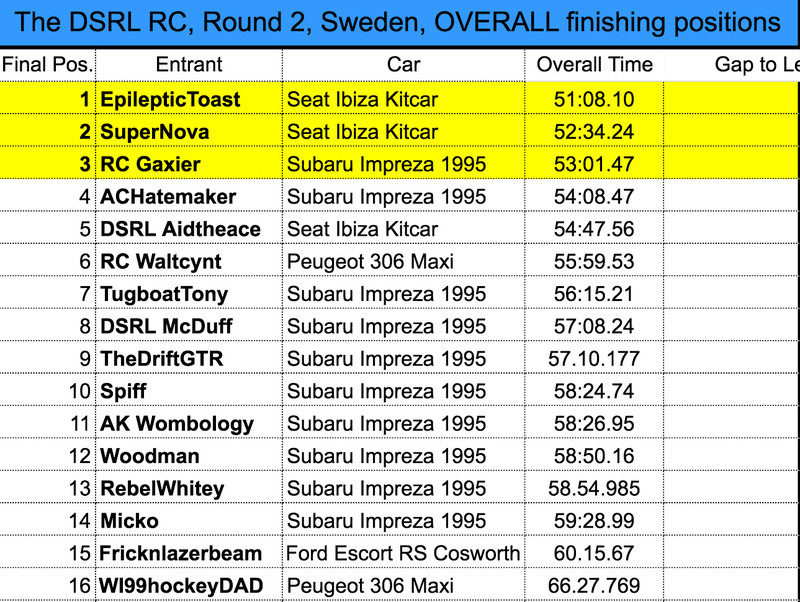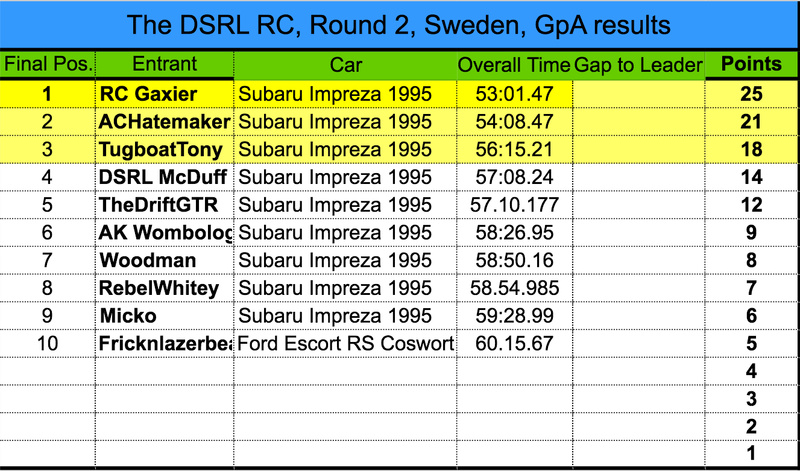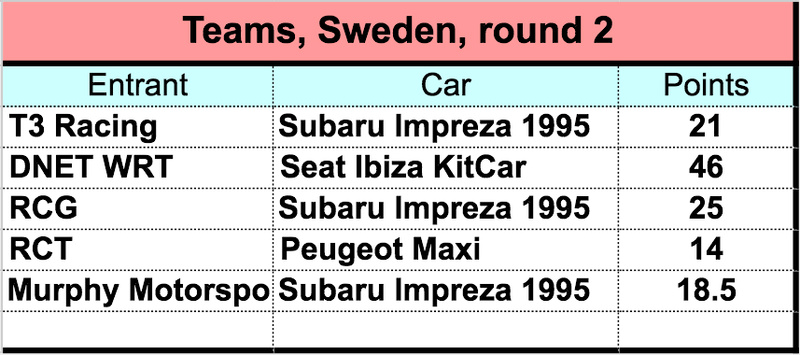 Last edited by DSRL McDuff on Sat Apr 29, 2017 12:01 am; edited 1 time in total
DSRL McDuff

​​​​​



Just a heads up Toast, I was driving the Peugeot not the Impreza
2pfspiff

​



@2pfspiff

wrote:Just a heads up Toast, I was driving the Peugeot not the Impreza
Sorry Spiff, that was my fault. All fixed for Sweden AND Championship standings.
DSRL McDuff

​​​​​



---
Permissions in this forum:
You
cannot
reply to topics in this forum