Page 4 of 4 •
1, 2, 3, 4
Add to the lobby ? I'll be on the look out
Guest

Guest



o0Woodman0o wrote:Add to the lobby ? I'll be on the look out
Yes mate to the party chat and the game lobby
TM aidtheace

​



It's at 8pm right ? (soz for being a mare)
Guest

Guest



Aid my good man, webbers sent me a message telling me his fastest time was not verified and his only proven time was slower than mine so i could have his spot in division 1.

i have sent you a pm too but he told me he was going to tell you but clearly hasnt,lol.

You asked for times to be posted as proof in time trial so its only those times that are used right?


d4ninho

​​



ok so i just checked and it sems i have another message from webbers,lol, im now back in div 2.

can someone direct me to his time as all i see is one slower than mine?
ive search the leaderboards and screenshots and do not see a faster time, am i looking in the wrong place?


d4ninho

​​



DSRL McDuff



Can everyone see that? Photo bucket is being an arse!
DSRL McDuff



Aup Dan. Basically webbers got mixed up as he didnt know that times on the leaderboard count. He sent me a screenshot of a timethat was slower. But then told.me him inproved but didnot get a shot. However i said that he could have it if i found it on the leaderboards which i did.
You right, webbers did not tell me but i found his time. And here it is.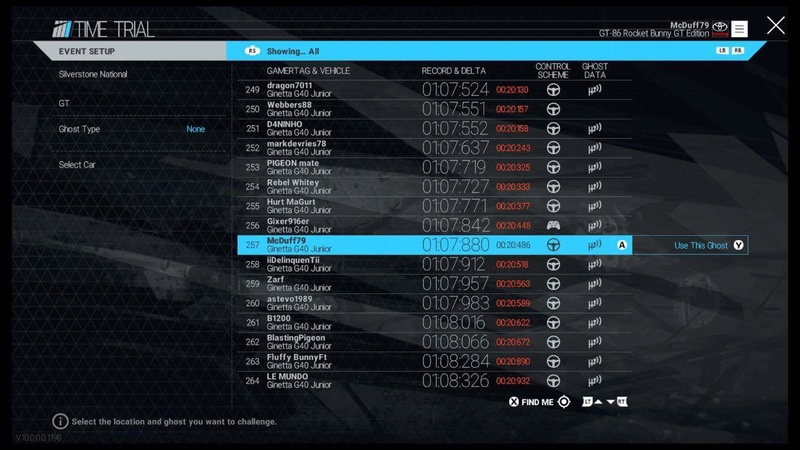 So unfortunately you are in Division 2 mate. Sorry to be there barer of bad news.
Aid.
TM aidtheace

​



kushman



donny88



Looking to sign up as privateer for my first ever series with you guys
Driver name: Jack Rainey
Driver gamertag: Rack Jainey
Car number:
#36
Have you completed you driver seeding run? No i am a noob and trying to start out
Rack Jainey



Page 4 of 4 •
1, 2, 3, 4
---
Permissions in this forum:
You
cannot
reply to topics in this forum