DSRL Support
If you would like to see the ads disappear, have our own domain and improve the overall all look of the DSRL, Click the button below and donate as much or as little as you wish. Many Thanks, The DSRL Staff
Here are the results from tonights Division Seedings. There are 3 registered drivers yet to have their seeding timing and will therefore be fitted into their appropriate Division after a private session.
Division 1
Division 2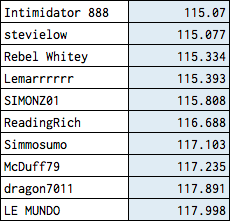 _________________
The Dedicated Sim Racing League
So it looks like its mclaren in top lobby and merc in bottom lobby,
perhaps the cars are not evenly matched?

ppl should now swap cars and run again to see the difference as a default series where the cars are not even is kinda guff.
surely default racing needs to be done in the same car.


Pro Driver




Posts

: 155


Join date

: 2016-04-17



I think possibly it's Silverstones fault. The cars are geared pretty differently and I think the Merc will be faster around Sonoma and tracks like that.
Race Host




Posts

: 221


Join date

: 2016-02-15


Age

: 37


Location

: Connecticut USA



Unfortunately during the whole sign up and seedings night, we have a very mclaren heavy entry. So no matter which way you look at it there was going to be divisions with many more mclarens than mercedes.

There was testing done in both cars and Silverstone did show very similar lap times between the 2 cars. If anyone is unhappy with the result and wish to run again with the other car then please contact me.

_________________
The Dedicated Sim Racing League
I am yet to do my seeding run and will be doing it when im home on the saturday night so there maybe another merc in the top lobby. I hope.
_________________

Staffordshire University Motorsport Student. / DSRL 4 Time Champion
DSRL Career: 114 Races, 89 Podiums, 51 Wins
AOR Season 6 & 7 GT3 Elite Champion
Four Time Champion




Posts

: 758


Join date

: 2016-03-20


Age

: 23


Location

: Stoke-on-Trent



Am i the only merc that made div one ?
Pro Driver




Posts

: 122


Join date

: 2016-08-09



At the moment yes. Though Aid and Idiot haven't done their runs yet. So I would expect at least 1 more Merc in.

_________________
The Dedicated Sim Racing League
Well it would still leave one merc unless they both made a faster time than 8th place then that would relagate 9th and 10th but good luck to them both anyway
Pro Driver




Posts

: 122


Join date

: 2016-08-09



---
Permissions in this forum:
You
can
reply to topics in this forum